Kitchen Planning
As you're strolling through the builders' home show or flipping through a magazine or design book from the library, you see it! It's perfect for your kitchen, but...you have to wait for money...or time...or to find a complementary design that will work in your adjacent family room. Whatever the reason, be sure that this design idea doesn't escape by creating a Design Idea Book.
Create a book full of decorating possibilities with a binder organized by the rooms in your house-or even just the one room you're planning to redo. This also works if you've decided to build your dream home or you're planning a large-scale decorating project-now, or in the future. With an idea book, you'll have the chance to play with design possibilities before you spend any money.
Getting Started
Gather any photos, magazine pictures, and articles to help generate some ideas for colors and cabinet styles.
Gather input from family members on ideas for your project.
Determine a budget for your project. On new construction, most builders will give you an allowance for cabinets, countertops, and appliances.
Draw a rough sketch of your kitchen and take measurements. (See attached instructions). On new construction, your architect should supply you with a set of house plans. If you have a digital camera, and want to be extra certain of no problems, Please take some digital pictures, and e-mail them in to your sales rep before Your appointment.
Call us to make an appointment or come visit our showroom.
Visiting Our Showroom
Once you visit our showroom, make some selections on different cabinet styles and colors. Our kitchen and bath designers will assist in your selections. If you have swatches of flooring, paint, counters, or any other component that may be pre-decided, you may want to bring them with you to help in choosing the colors for the cabinets and such.
If you are undecided, select more than one cabinet style. Delta offers over 350 door styles and color combinations, each ranging in price.
If you can adequate preliminary information for our designers to work from, you will help speed up the process, and get a better price than if we have to go out to measure. (We field verify every job for free after you place your order), however, with rough preliminary measurements with, or without pictures, you can usually have your kitchen design finalized, and have everything quoted the same day. If you are not comfortable with providing preliminary measurements, and have a little extra time, we will send someone to measure at your home for no additional charge. On new construction, we will take a final measurement when the house is completely framed.
Finalizing Your Kitchen or Bathroom
If you like our products and prices and decide to order your kitchen or bathroom, we will come to your house and take a final measurement for FREE if we haven't already! It is then time to set one last appointment to finalize all the details.
We will confirm the cabinet style, countertops, and/or appliances and finalize the price.
Once we finalize the design, and pick the cabinet style, we will place the order. Lead-time is usually 3-3-1/2 weeks.
We will notify you once the cabinets have arrived and deliver them almost immediately if our agreement is to deliver. It is typically the responsibility of the installer to deliver the cabinets. When we are installing your kitchen, the delivery fee is included in with the installation.
We will be glad to sell you the materials for you to install yourself, or have a contractor install them, however, our experience strongly suggests that we advise against it. It is almost a given that when you begin to involve several different parties, as soon as something goes wrong they begin passing the blame. Haven't we all been through enough? Does this sound like a fight that you feel up to fighting after all that you have been through? We would much rather you award us the opportunity to see your project through from plan to completion. There is a great deal of planning, measuring, designing, preparing, coordinating, scheduling, timing, and otherwise headaches involved with a project of this nature. We offer our planning and coordinating services at no additional charge to our customers that contract us to install, and furnish counter tops as well as the cabinetry. This is not a promise that everything will go perfectly if you allow us to coordinate your project, because it probably won't! It very rarely does. However we have the advantage of 20 years experience, huge human resources at our beck and call, and the benefit of working with the same employees, suppliers, subcontractors, and crews that we work with every day. We get our jobs done with impeccable quality, fast and friendly service, and on a timetable that no one else even dares to compare to.
Measure Your Existing Space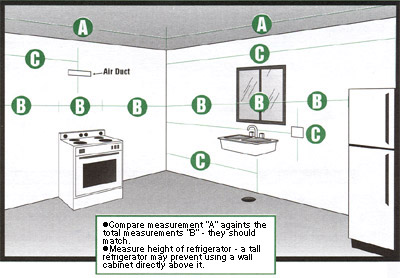 Start with the first wall on the left and work to your right around the room. First, measure the overall length of each wall in your kitchen. Use grid paper to record all your measurements.
Indicate all breaks in walls (windows, doors, closets) by measuring from the corner to the outside edge of the molding. Don't forget to indicate any permanent appliances, air vents, offsets, etc.
Measure to centerline of plumbing, ducting and outlets. Remember, plumbing and outlets may be moved to accommodate a design.
Create Your Floor Plan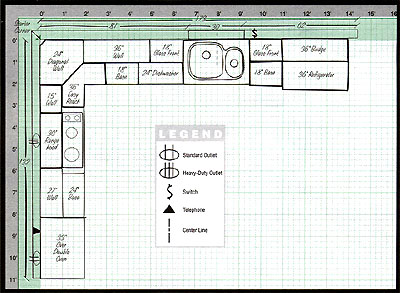 Using your kitchen measurements, start sketching your cabinets. Start in the corner of your grid paper and work out. Note the location of your electrical outlets, plumbing fixtures and air ducts. You may be able to move major appliances several inches either way to accommodate a layout change.