Before Cabinet Refacing
After Cabinet Refacing
(click for larger version)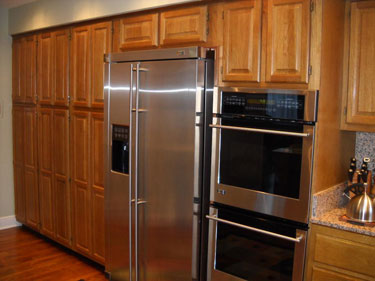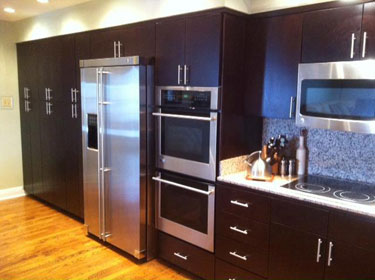 About Cabinet Refacing
Cabinet refacing is a simple method of refurbishing old cabinets and making them look new for a fraction of the cost.
See below for FAQ's (Frequently Asked Questions) regarding Cabinet Refacing.
Cabinet refacing is also known as Cabinet Resurfacing, Cabinet Facelift, Replacement Doors, Cabinet Refinishing, Cabinet Veneering, Etc. There are as many names for this project as there are methods of construction, At Delta Cabinets, we recommend one of two methods only. These are the methods which we have found to be most affordable, effective, and efficient. We offer a turn-key project complete with installation or we can furnish the materials for you to DIY with or without professional help.
Our primary method is one where we replace all the doors and drawer fronts. We then resurface all of the fascia, end-panels, cabinet-bottoms, and toe-kick with new 1/4-wood (similar to paneling) which is finished to match your new doors. the new paneling is glued and brad-nailed on to assure durability. We trim out the resurfacing with a variety of specialty trims and moldings to cap raw edges. We install new hardware and crown molding turning your old kitchen into a magnificent showplace. Only you will know that your cabinets have been refaced rather than replaced. This method does not require any stripping, or sanding. We do all the finishing work in our shop before coming to install. The in-home installation part is a very clean and neat process, and most jobs can be completed within 3-5 days inside the home. Because we are recovering, and not refinishing, the style, and color options are unlimited. You can go from dark to light, light to dark, paint to stain, stain to paint with no problem. With all material and labor included, this process usually runs about 1/2 the cost of new cabinets with 1/10 the headaches, problems, and worm-can opening. You do not need plumbers, electricians, sheet-rock guys, painters, tile-men, floor men etc, etc, etc. You do not even have to replace your countertops. Anyone who has lived through any construction projects knows how quickly your exciting new living-room paint color can turn to a nightmare!!! This process is seemingly magic compared to typical construction. With Delta Cabinet's refined Refacing process, you will be back cooking and entertaining in your new kitchen within 1-week and no-one will ever know the magnitude of the transformation your kitchen recently underwent. (See Refacing FAQ's for more information on the process, and available options)
The other option we recommend, with some restriction, and more work on your part is replacement-doors, and self painting the existing framework and end panels. This process requires more work on part of the homeowner. Generally the homeowner removes all the old doors and drawer fronts before we arrive. You then mildly sand, and paint all the existing cabinetry and framework (Be certain your cabinets are paintable before engaging this process). We then come in with the new factory-painted doors and drawer fronts, which cover 90% of the surface transforming your old kitchen back to a new-like feel. This process requires more planning, restrictions, considerations, and options yet many homeowners find that the savings is well worth their efforts.
Our goal is to help you achieve a product, price, and style that works for you and modernizes your kitchen to a degree that you are satisfied with. We will be glad to furnish, and supply as much or little of the product or labor that you want us to. Some customers come to us simply to purchase the unfinished cabinet doors for their project, while supplying their own measurements. Others want full-fledged installed refacing which we measure, supply, and install the goods. We are happy to work with you either way. We will do as much, or as little as you like to arrange a happy working relationship that enables you to hit your remodeling goals. Please call us anytime to discuss your project desires, needs, and budget. We will work really hard to help you achieve the kitchen you desire for a price within your budget.
Before Cabinet Refacing
After Cabinet Refacing
(click for larger version)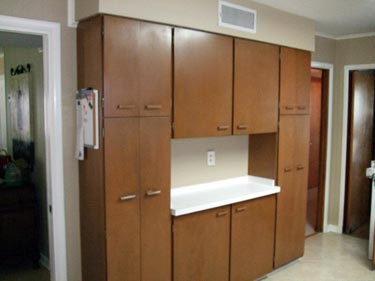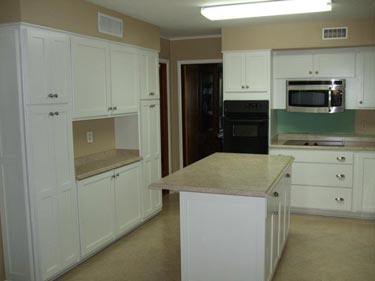 Cabinet Refacing FAQ's
What is Cabinet Refacing?
Cabinet Refacing is a process where we make old, Outdated Cabinets look Brand New at a fraction of the cost. You do not have to replace your countertops as with remodeling.
What is The Process?
We install New Doors, and New Drawer Fronts. All of the existing cabinetry including Sides, Fascia, Bottoms, and Toe Plates are resurfaced with a ¼-Inch Wood Paneling that matches your choice of new wood and finish (color). We top it off with new crown molding and new hardware turning your old kitchen into a magnificent showplace!
How Much does it Cost?
Once you factor in the cost of Material and Labor it runs from 30% to 40% of new cabinets without generating a need for many extra expenses that come along with complete remodeling. There is no need for New Countertops, Repairing or replacing floors, Sheetrock and painting repairs, Plumbing work, Electrical work. Etc.
How long does it take?
Most jobs can be completed within 2-4 days in the house. We require a lead time of 3-4 weeks to fabricate and prepare the materials. We do everything we can at our shop so that installation and kitchen-downtime is held to a minimum.
How long will I be without a kitchen and otherwise inconvenienced?
Not long. You may be moderately inconvenienced for the duration of the installation while our workmen are there. You will have full access to your kitchen in the evenings. At no time will your kitchen be totally unusable, as with remodeling. Cabinet Refacing is a fairly clean and neat process. There is no stripping, and no sanding. We prepare everything we can at our shop before arriving at your home. You do not even have to remove all of the items in your cabinets. Just the drawers, and please remove all the items from your countertops
What is the Warranty?
We warrant against faulty material and workmanship for 5-Years. Hinges and hardware carry manufacturers Lifetime Warranty.
My drawers are broken or not opening well. What can we do?
While we are at it, we can replace all, or some of the drawer boxes and hardware if needed. We can install new drawers with the state of the art "Soft-Close feature"!
Is my kitchen worth refacing?
If you are happy with the general configuration of your kitchen and your cabinets are structurally sound, then you should definitely consider refacing.
What if I want to change the layout or modify some things?
We offer dozens of simple changes and modifications that can be performed as we reface your cabinets. We can convert a regular cabinet to a drawer stack. We can add new cabinets here or there, We can add an island, We can form a peninsular, Add a Pantry, Install a matching door to your existing pantry, Add a wine rack , Trash Pullout, Tilt Out Trays, Spice rack, Etc. Where you have storage problems, we have solutions. We will make recommendations and show you a catalog of all the available options. Most every accessory that is available for new cabinetry is available for refacing whether Functional or Decorative.
My cabinets are very dark and I want to go light, Can we do that?
Absolutely! Because we are replacing the doors, and overlaying new material over the existing, there are no real limitations. We can go Dark to light, Light to dark, Paint to stain, Stain to paint.
How many colors and styles are available? Do you have samples?
We have samples for many of today's popular colors and styles. Because we are a full fledged custom cabinet shop, virtually anything you have ever seen or imagined is possible. Most we will offer you at no additional charge. In fact, with limitless options to choose from, the process can become overwhelming. We recommend that you either choose from our samples or find color & style combinations from magazines or the web and we will replicate it for you. When working from photos, we will always provide a real sample for your approval before producing your order.
How long have you been doing this?
Over 25 Years. Our manager is one of the pioneers of this process in the New Orleans area. He was part of the refacing boom-time in New Orleans from 1987 -2001. During these years, he would oversee the production of refacing products, and consulted for most every refacing company in the Greater New Orleans area. Combined, these companies satisfied over 1000 happy refacing customers per year. Cabinet Refacing is not a trend. It is a tried and true process that has been around for many years. With Delta Cabinets, You are working with the most experienced manager and team practicing this process in New Orleans today.
Before
After
During
(click for larger version)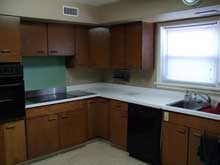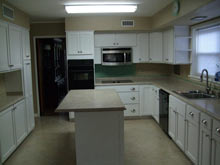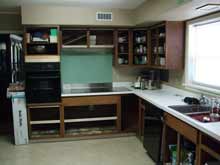 Before Cabinet Refacing
After Cabinet Refacing
(click for larger version)